Inspiration for Executive Chefs

SOUPS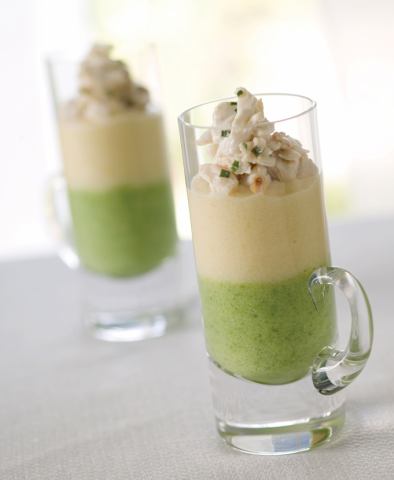 Vichyssoise
Chef Jonathan Hale
Blue Point Coastal Cuisine
San Diego Chargers

2 Tbsp Unsalted butter
4 ea Yukon potatoes, peeled and quartered
4 ea Leeks, cleaned and chopped
2 tsp Garlic, minced
4 cups Chicken stock or water
1 1/2 cups Heavy cream
Salt and pepper to taste
. 1 Heat butter in saucepot with medium heat.
. 2 Add potatoes, garlic and leeks. Sweat until leeks are translucent.
. 3 Add stock. Simmer for one hour.
. 4 Puree and season.
. 5 Refrigerate before serving.

Chilled Asparagus Soup
1 lb Asparagus, trimmed and cut into 2 inch pieces
6-8 cups Vichyssoise
. 1 Blanch asparagus in hot salted water until tender.
. 2 Remove and place in ice water.
. 3 In small batches, puree asparagus in blender with a little water.
. 4 Strain with fine mesh sieve.
. 5 Combine with vichyssoise base.

Blue Crab Salad
1 lb Blue crab meat (pasteurized)
2 tsp Orange juice, freshly squeezed
2 tsp Mayonnaise
1 tsp Chives, chopped finely
Salt and pepper to taste
. 1 Combine all ingredients together by folder gently.
. 2 Season as needed with salt and pepper.

To Serve
In a oversized clear shot glass, layer the soups and salad starting with the vichyssoise, then add the
asparagus soup, and finish with a layer of the blue crab salad. Drizzle with white truffle oil.

© 2007 Taste of the NFL. All Rights Reserved.
Inspiration for Executive Chefs