Inspiration for Executive Chefs

DESSERTS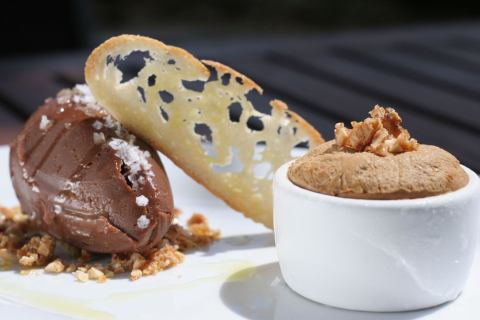 Milk Chocolate Cremoso with Espresso Parfait
Chef Michael Schwartz
Michael's Genuine Food & Drink
MIAMI, FLORIDA

Serves 10

Cremoso

2 cups heavy cream
1/3 cup sugar
5 egg yolks
1 pound milk chocolate, chopped

Bring the cream and sugar to a boil in a sauce pot. Meanwhile, whisk the egg yolks in a bowl, and slowly add the hot cream to temper the yolks. Return the mixture to the pot for approximately 1 minute on low heat to thicken. Place the chopped chocolate in a bowl and pour in the cream mixture while still hot. Whisk thoroughly; then chill until completely firm.

Espresso Parfait Ingredients:

2 cups heavy cream, whipped
½ cup powdered sugar
1 teaspoon vanilla extract
1 tablespoon espresso, cooled

Whip the cream with the powdered sugar and vanilla extract to a soft peak. Gently fold in the espresso, and spoon into small ramekins. Freeze before serving.

Presentation
½ cup chopped hazelnuts
Extra virgin olive oil
Sea salt
10 slices sourdough bread, toasted (one per serving)

Place chopped hazelnuts on the plate as a base for the cremoso. Spoon a generous amount of the cremoso on the plate and drizzle with extra virgin olive oil and a sprinkle of sea salt. Top with a thin slice of toasted sourdough bread. Place the ramekin on the side, garnish with leftover chopped hazelnuts and serve.

Inspiration for Executive Chefs